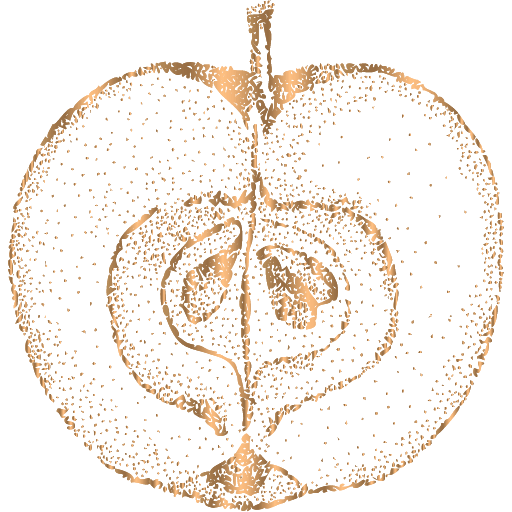 Visit Cydrownia przy sadzie
Situated just outside Grudziadz, Świerkocin is located on the A1 Highway – just an hour's drive from Gdańsk or three hours from Warsaw. Thanks to the perfect connection in a short time you can find yourself in an extraordinary orchard on a hill, with a beautiful view on the surroundings.
We like guests! Visit us and you will see that for yourself. Bring your family, friends, we would love to meet new people.
In the Cydrownia Przy Sadzie you will feel welcomed, taken care of, satiated and delightfully relaxed. We meet for pleasure and to celebrate the moment.
Once you visit us, you can decide yourself whether it will be
Cider Tasting / Two-Hour Visit

We offer a cider tasting combined with a walk through the orchard and a tour of the ciderhouse. During this time you will learn the secrets of apple tree cultivation, we will tell you what each season looks like in the orchard and how apple trees teach us to be humble and accept what nature gives us. You will also learn the difference between craft cider and industrial cider available in supermarkets. You will learn the phases of the production process of cider, and of course you will taste our cider.
Tasting of craft cider requires an appropriate setting and therefore, for this occasion, we provide carefully selected snacks. To emphasize the unique taste and aroma of all our ciders we present them in a really good company of selected delicacies. During the tasting we will also tell you about an interesting pairing of cider with different foods.
This is a proposal for a group of 6 or more people, the cost is 39 PLN/person. Tasting is available all year round.
An earlier reservation of the date is required. Reserwations are taken by
Iwona at +48 604 639 621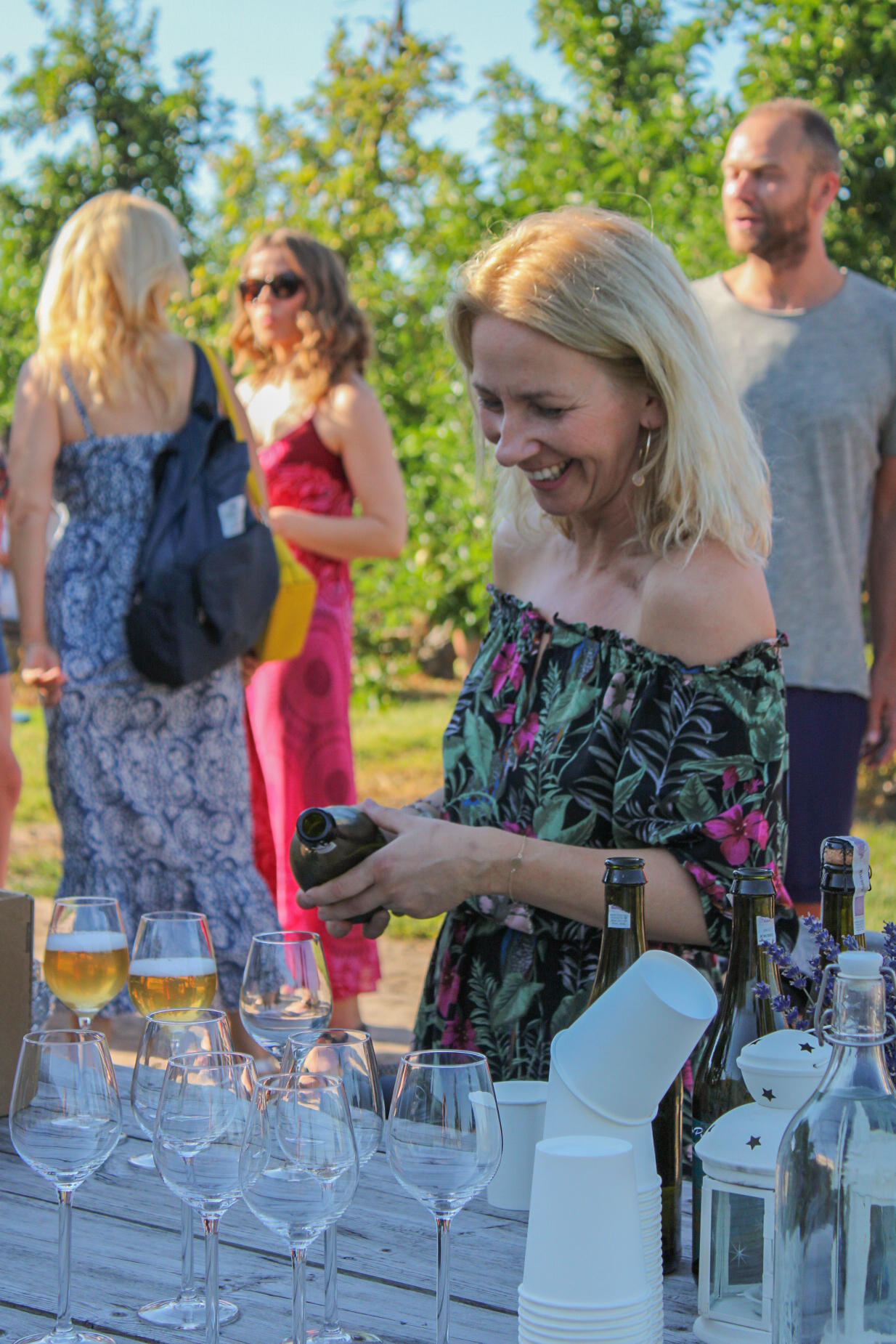 Company meetings

Companies that value a good atmosphere at work and care about their employees can take advantage of a special offer for large organized groups. We offer integration meetings, company meetings, family picnics. They usually take place according to the program of a two-hour visit, but we will adapt to your wishes as far as possible.
Price per person from 30 PLN,group over 20 people.
Prior reservation of the date and setting the details of the event is required.
Reservations can be made by calling the phone number: +48 604 639 621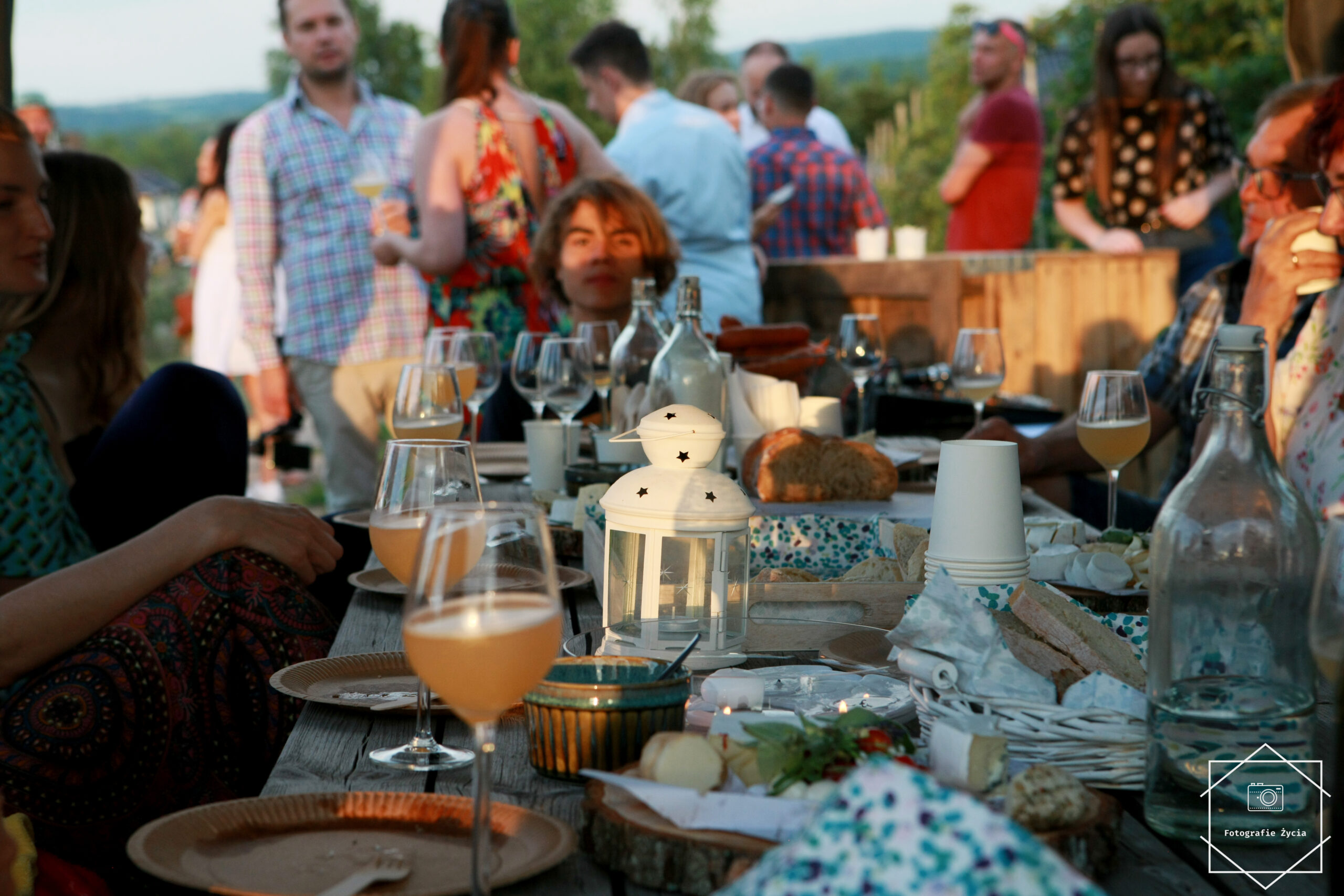 Picnic in the orchard
Enjoy four hours of wonderful relaxation from spring through fall, as there is nothing more enjoyable than a glass of cool pearly cider, savored with bliss and serenity! We have plenty of fresh air, a huge orchard space, deck chairs, chairs and tables in areas with a beautiful view, and delicious food and cider. We are often accompanied by live music.
You choose how you want to spend your time with us – chatting with friends and strolling through the orchard? Celebrating silence? Enjoying the delicious food? Or maybe just learning the secrets of cider production with a glass in your hand?
Each such meeting is different and unique.
Picnics take place on weekends and last about 4 hours. Dates of these events and information about who will cook and play for us are given on an ongoing basis on our website and Facebook.
The cost to attend the picnic is 50 PLN, which includes a tasting glass of cider and the always delicious food.
Prior reservations are required with Iwona at +48 604 639 621.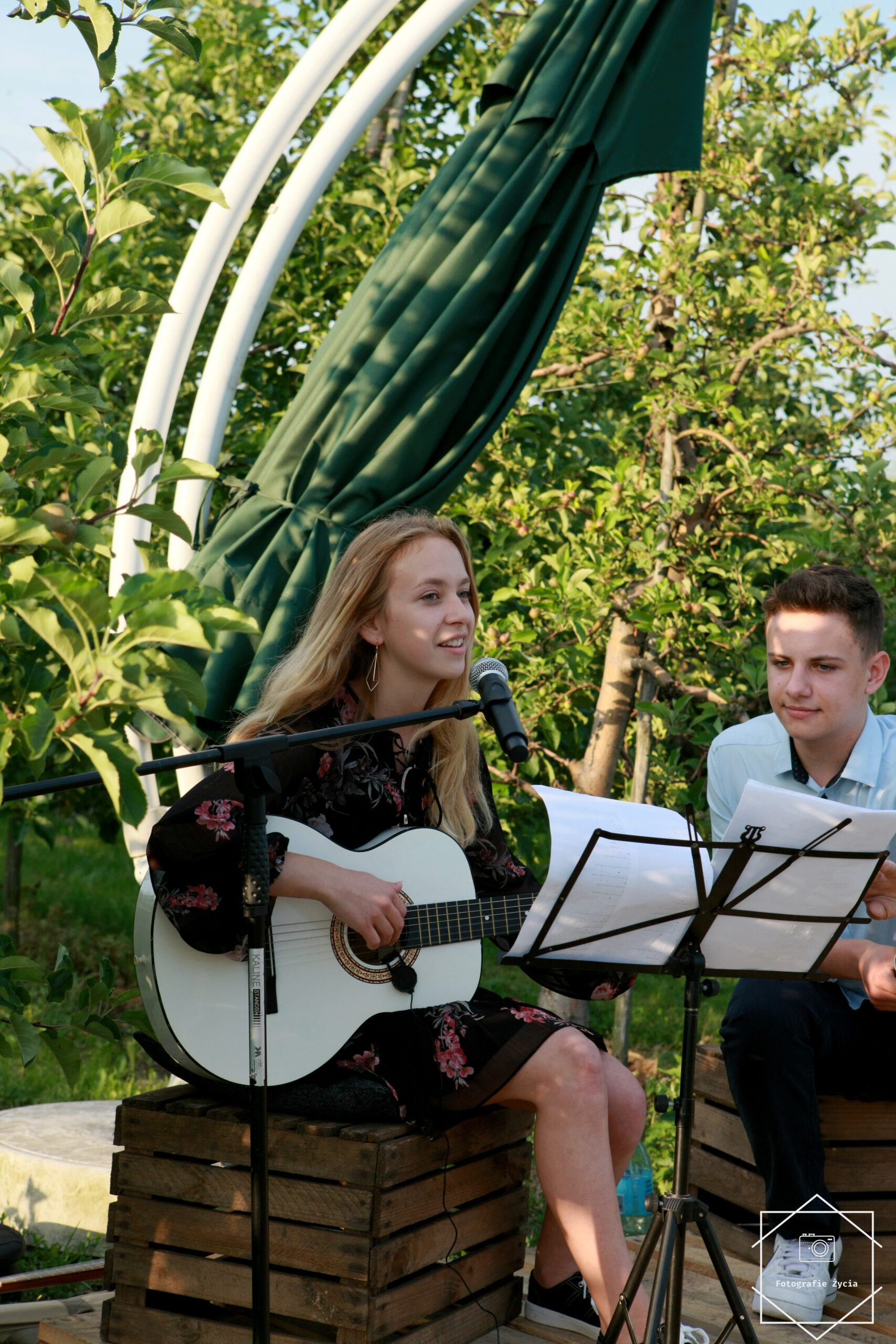 Photo sessions
The orchard is different every season, thanks to that the atmosphere here gives unique character to the photographs. If you would like to organize a unique photo session – family session, wedding session, or any other – in an extremely charming place, we invite you to our Apple Orchard!
We will be happy to welcome friends and lovers, newlyweds and spouses celebrating another beautiful anniversary, children celebrating their First Communion with their parents and all others who love Nature.
We recommend our Apple Orchard also to people who are professionally engaged in photography and are looking for beautiful open air locations to capture the fleeting beauty of happy moments.
In May, when the trees are covered by the mantle of pastel flowers, the photographs are full of romance, lightness and love floating in the air. From spring to autumn, on the other hand, the background of the photos will be the greenery in various shades and fruits shining between the leaves. In late summer and autumn, during the harvest when the apples are fully ripe, you can capture the richness of colors and shapes of juicy apples in your pictures. Then the leaves turn yellow and stroll in golden carpets between the long rows of trees. It's quiet, luminous, nostalgic. And if you want peace, whiteness, minimalism in your photos – these images and impressions the orchard provides in winter.
When visiting the orchard, there is an opportunity to purchase cider at a special price, just for our guests.
Prior reservation is required with Iwona +48 604 639 621.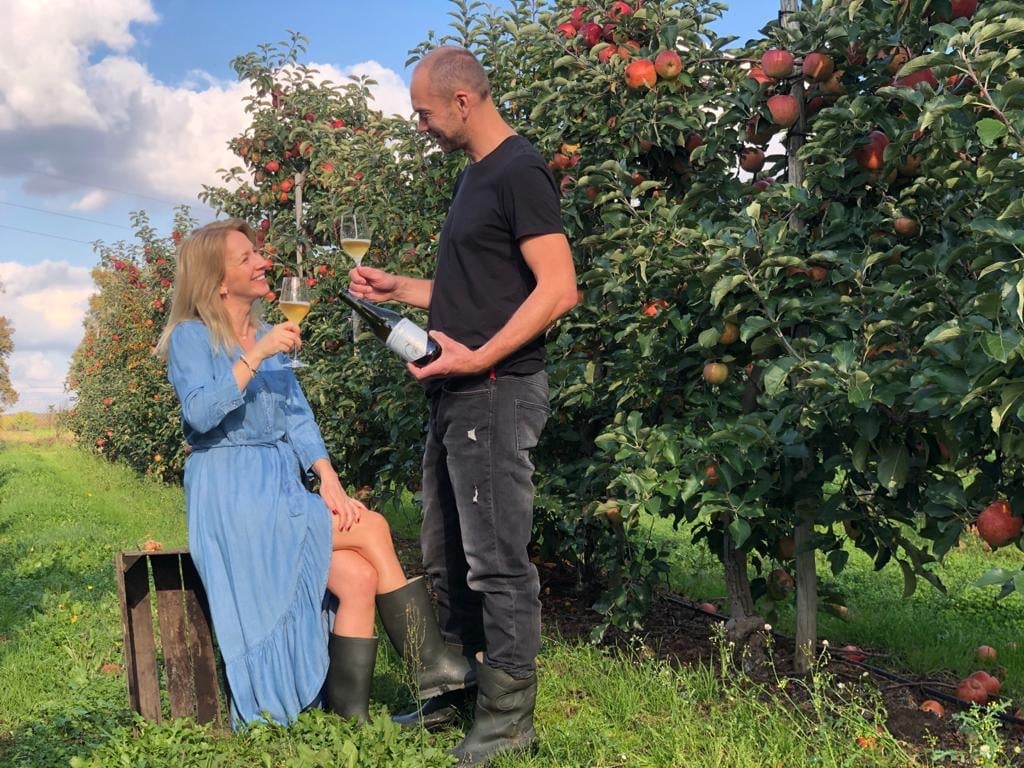 Vouchers
Are you looking for an idea for an original and interesting gift? Get our Voucher!
If you want to make someone a nice surprise, give them a Voucher for a visit to a ciderhouse or a picnic.
You can also buy cider, which you can pick up in our store or in any other form (conditions to be agreed over the phone), you choose.
The voucher can be purchased either in paper form in our store or electronically via the website. Usually it has to be used within three months, but in special situations the deadline can be set individually.
All arrangements and detailed information about the price and the nature of the Voucher should be consulted with Iwona at +48 604 639 621